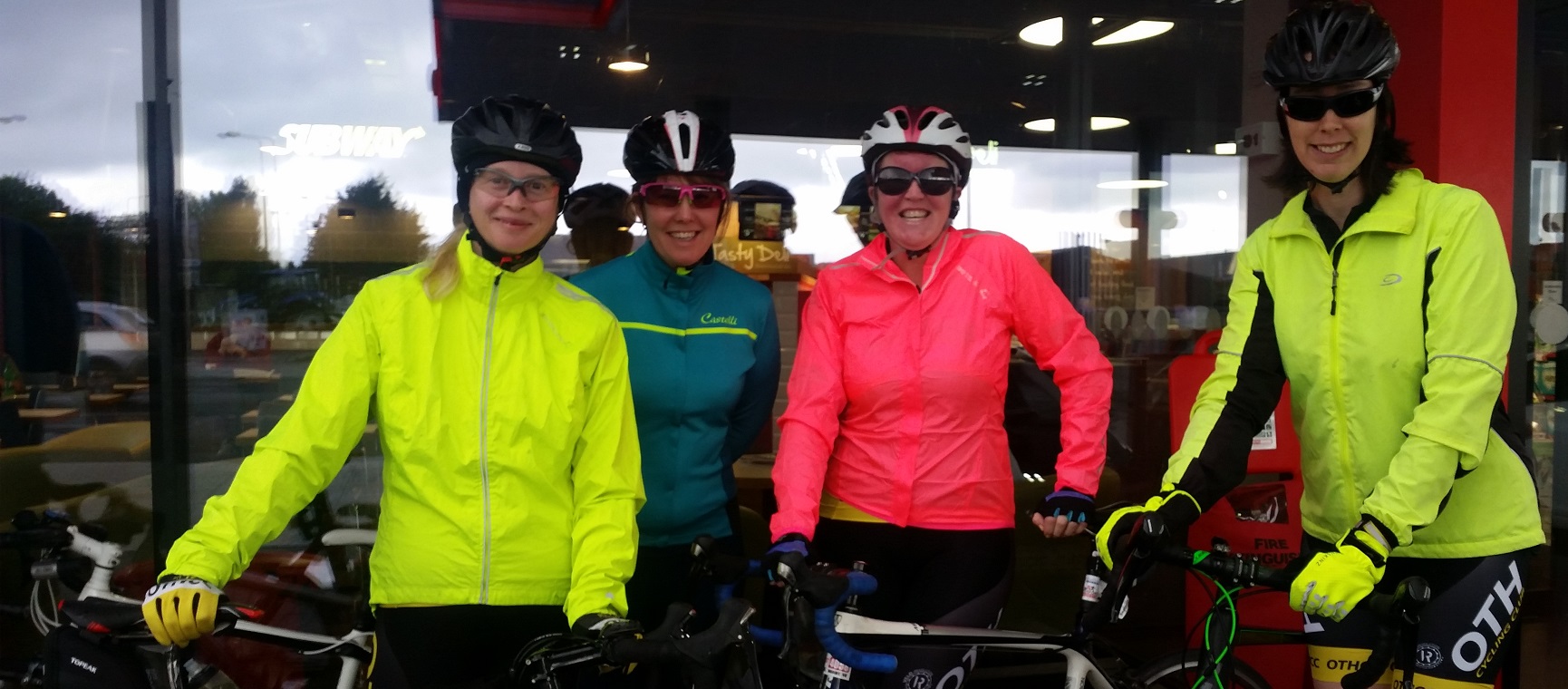 We welcome new members all year round. We meet at Mescall's in Watergrasshill Village and generally travel around the greater environs of North and East Cork.
The circuits are rolling for the most part, with the odd stiff climb here or there but nothing that can't be taken care of with a couple of minutes break in the chat before the road flattens again. Weekday and weekend rides generally take place within this area.
New members normally join our Sunday spins first as they are generally shorter and of moderate pace. As you develop you will likely join us for the longer Saturday runs and quicker Wednesday evenings. We have experienced cyclists who will help you transition from solo cycling to cycling safely and enjoyably in a group. The guiding ethos is that "no one is left behind" on a Club cycle. The Sunday spin and most Saturday spins feature a Coffee Stop which brings an additional enjoyable social element to the Club spin.
If you would like to cycle with our club on a regular basis, you will be required to join Over The Hill Cycling Club and apply for Cycling Ireland membership after your first three spins. This is to ensure that all riders have insurance cover from a 3rd party viewpoint.
Summer Schedule: April to October (Departing from Mescalls)
Wednesday 19:00
Saturday 08:00
Sunday 09:00
Winter Schedule: November – March (Departing from Mescalls or Glanmire depending on Road Conditions)
Saturday 09:00
Sunday 09:00
Thursday 19:00 Turbo-Training from January – March (First Fruit Arts Centre in Watergrasshill)
Additional Details for New Members
Prospective new members are welcome to try the club out for three introductory spins before deciding if they wish to join and also to get some experience of cycling safely in a group. Membership is open to Men and Women over the age of 18 years.
The club operates a levels structure to try and accommodate cyclists of different abilities.
The supervised introductory spins are run on Sundays and start from Mescalls in Watergrasshill Village at 9 am.
Experienced cyclist(s) will accompany each group.
Let us know in advance when you plan to attend, info@overthehillcc.com or use the Contact Form on this Website.
For more experienced cyclists there is the option of taking part in longer spins on Saturdays.
Membership runs for 12 months from date of joining. Club membership is 45 Euro for all adult members and Cycling Ireland Affiliation (which brings mandatory insurance cover) will be 50 Euro for a Leisure Licence in 2018. Additional Cycling Ireland Licences for competitive cyclists are also available.
Total = 95 Euro which is payable on completion of the three introductory cycles and joining.
Road Bikes are a requirement.
Cycling on Mountain Bikes will require additional effort and could hinder the ability to stay with the specific group.
Members joining the club agree to comply with the "Rules of the Road". http://www.rotr.ie/Rules_of_the_road.pdf 
If you have any additional queries please contact the Club Secretary using the email address above or use the Contact Form on this website
Looking forward to seeing you on an upcoming Sunday.
Useful Links for New Members
The Club Facebook Page has regular updates on upcoming activities and photos from club spins.
https://www.facebook.com/OverTheHillCyclingClub
The club also have a WhatsApp group and Email distribution list for communication amongst members.
A New Member Application Form is available at the following Link:  OTH CC APPLICATION FORM_03-Jan-2018
Once submitted this application goes for review by the Club Committee.
The Cycling Ireland website is available at: http://www.cyclingireland.ie
The Cycling Ireland membership portal which can be used to register with Cycling Ireland and to make all payments is available at: https://cyclingireland.azolve.com/Account.mvc/Login?ReturnUrl=%2fWorkbench%2fHome